Welcome back to another edition of Hidden Gem! Last week, I covered one of my favorite television sitcoms, so I thought I'd switch gears a bit and bring to light my favorite documentary series.
You're at a sporting event; your team is down by a lot, you're eating stale crackerjacks, it's stagnant outside, and everyone around you is just as disappointed at inevitable outcome of the game. Despite these circumstances, there is one person who will put these factors behind them. There is one person who will go great lengths to hype the discouraged crowd, casting aside the terrible display from their home team. This same person has a name and face, but is hidden behind a façade. This one person is your team's mascot, and "Behind the Mask" tells you their story.
Whether you're a fan of sports or not, Hulu's original series "Behind the Mask" will resonate with you. This compelling documentary series follows the path of four mascots (at every possible level), displaying the rigorous trials and tribulations they endure when taking up the role of your team's spirit.
The Mascots
The cast of characters in the show do a spectacular job of highlighting what it's like to be the anonymous morale raiser at every sporting event. At the lowest rung of mascot hierarchy we find high-school mascot Michael – aka "Rooty the Cedar Tree" – of Lebanon High-School in Pennsylvania. Michael, a semi-anti-social train enthusiast, is the epitome of "un-cool" in terms of a high-school mentality. However, when he dons his mascot getup, he transforms into the life of the party. In a school with a terrible athletics department, Michael still finds pride in his school, and its mascot – a tree.
At the next level, we find Jon "Jersey" Goldman, the man behind UNLV's mustached menace, known as "Hey Reb!" This 5th year college senior truly encapsulates what it's like to "Van Wilder" your way through college as the school's renowned mascot. Nevertheless, Jersey's school spirit burns brighter than anyone of his peers on campus. Watch his story unfold in the series as he attempts to pass his last year of school, and how he has to come to terms with turning over mascot duties after many years of being the man behind Hey Reb!
The show also follows two more mascots at the professional level: Chad Spencer – aka "Tux" – a semi-pro mascot for a minor league hockey team with dreams of going pro, and Kevin Vanderkilk – The Milwaukee Bucks mascot "Bango" – whose high-flying antics seems just as physically demanding as the players on the team's roster. These two men exemplify the fact that being a professional mascot is so much more than just being a crowd pleaser.
Not just for sports fans.
As I mentioned earlier, you don't have to have to love sports to fall in love with "Behind the Mask." Watching the show as a sports fan is like watching 4 athletes at every stage of their career – as each mascot strives to become a professional one day. However, if sports turn you off, the series hardly focuses on the teams or sports each mascot represents, and is heartwarming, funny, and above all, compelling TV.
Various subplots with each character will keep you entertained as the show focuses on the personal lives of each character. You'll see Michael gussy up enough courage out of costume to ask a girl he fancies to prom, or Kevin struggle with a potential career-ending injury obtained from a risky half-time show performance. These are the real bread and butter aspects of the show – the ones that truly tug on your heartstrings as you find yourself empathizing with each character.
After the amount of success of "Behind the Mask's" first season, Hulu has decided to renew the series for a second run.
Recommended if you like:
I recommend this show if you enjoy any ESPN "30 for 30" docs, Morgan Spurlock's "30 Days," and even mockumentary shows like "The Office," and "Parks & Rec." The show is also great for fans of "mature" reality television (i.e. not the Kardashians). Even if none of these recommended shows tickle your fancy, I still advise you to give this show a whirl, especially if you're a cord cutter, and are running out of shows to watch.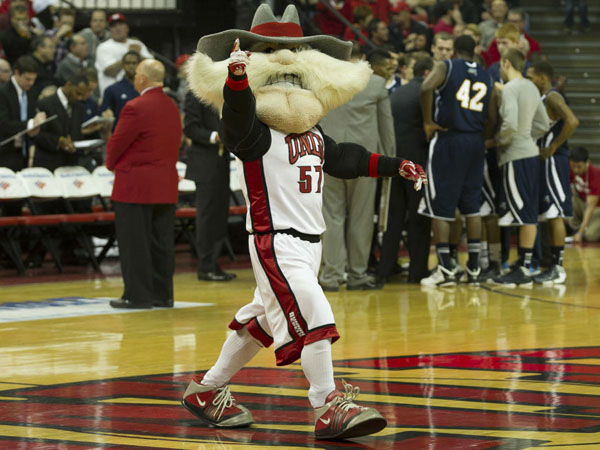 What did you think of "Behind the Mask?" Let me know in the comments, and be sure to follow me on Twitter for more TV news, and future Hidden Gem pieces.
Tags: Behind The Mask Hulu Plus